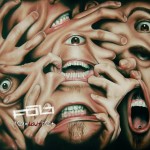 F@B – "Talmbout'Dat"
We announce the digital release via OverDubRecordings, the Talmbout'Dat is appearing on Itunes, Amazon and other 240 digital stores worldwide on February the 20th
"Talmbout'Dat" is a debut music album by f@b. The name "Talmbout'Dat" stands for "tell them about that", which means emotional release. It describes strong emotions usually people hide under the mask of politeness and social dignity imposed by society.
Produced by Davide Rosati
Engineered Mixed by Davide Rosati Recorded at ACME Recording Studio, Raiano (AQ),Italy.
Mastered [at] Fascination Street Studios by Jens Bogren