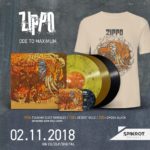 Hi There!
ZIPPO debut album 'Ode To Maximum' reissue by Spikerot Records will handle this "historic" operation after 13 years since its recording sessions at ACME Recording Studio, with a whole new artwork by the amazing artist and friend Davide Mancini / DARTWORKS – drawstroy and the final touch of Tony Reed (Mos Generator) on the knobs who dusted off and remastered these exquisitely naive recordings of our youth.
The final tracklist also includes two bonus tracks:
1. Alpha
2. Tsunami Dust
3. S.N.A.P.R.S.T.
4. Forgotten Season
5. Night Jam
6. Kid In The Desert
7. Crazy Forest
8. Tukay's Fury
9. The Elephant March
10. Omega
BONUS TRACKS:
11. Night Jam #2
12. July (Slo Burn Cover)
PRE-ORDER:
► http://bit.ly/OdeToMaximum
+++FOLLOW SPIKEROT RECORDS+++
● http://spikerot.com
● https://facebook.com/spikerotrecords
● https://twitter.com/spikerotrecords
● https://www.instagram.com/spikerotrec…

Pre-Orders will start Next Monday 24th at 15:00 CEST.
Available in Cd Digipak / Gatefold Double Vinyl / Digital.