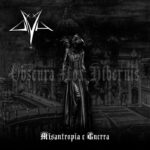 Obscura Nox Hibernis "Misantropia E Guerra" Album Reissue
Earth And Sky Productions is proud to announce the release of "Misantropia E Guerra" previously unreleased Occult Pagan Black Metal album by Italian Undergound band Obscura Nox Hibernis from Abruzzo!
Credits
I Made this Abum in 2004.
Rec / Mix / Mastering at@acmerecordingstudio
.
The album will be available on Straming through band's and Label's bandcamp page and on Professional CD
Thanks a lot for the great collaboration to make it possible, in particular to Davide Rosati, Alexandru Bop, John Wolf Smith, Klaus Woyzeck, Matteo Viglietti.
Marco Köstli: this album is dedicated to you!